Important This is intended for single-player only! Multiplayer support is not possible with this mod.
This guide has been updated to reflect the latest version of Minecraft, 1.16.1 - 1.16.5!
Here we will explain how to use Minecraft(PC) with Crowd Control!
Crowd Control Prep
Click here to explain how to setup the Twitch Crowd Control extension

Login to https://crowdcontrol.live/ using your Twitch account and download the latest desktop client:

Install the program like any other and login with the same Twitch account.
You will also want to review and adjust prices or disable effects your viewers can send at you at https://crowdcontrol.live/item-pricing/Minecraft

Pricing is based on our own currency, coins. Coins are about 1 to 1 for bits and can be exchanged in the Crowd Control extension. More info on bits can be found at our FAQ.


Head to your Twitch Extension page and install Crowd Control
Enable the extension overlay on your stream from My Extensions

More info on how the extension works can be seen at https://crowdcontrol.live/extension-details
Minecraft Setup
Try our new 1 click installer in the desktop app, which should take care of all the below steps!.
1.16.1-1.16.5 is only supported at this time.
To setup the mod manually, click here

Before we begin, you will need the official Minecraft Launcher + Minecraft Forge
and the Crowd Control mod to proceed.

Grab Forge Installer 1.16.5 here
The only supported version of this mod is 1.16.5!

Run the Forge installer and select "Install Client" with the default path.
For more info on installing this mod with Forger, take a look here
Now that the mod is installed, connect to Crowd Control!
Close Minecraft if you have it running.
From the Crowd Control desktop app, select "PC - Minecraft" from the dropdown and hit "Start".
Start up Minecraft!
Notes:
If you want to disable the in game messages or the CC mod, take a look at this guide. As an example, the default in game messages looks like: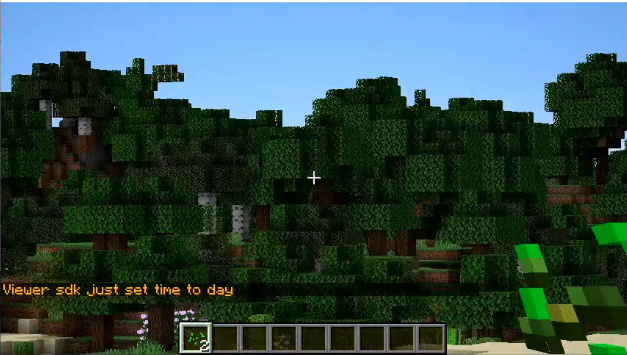 Our browser source and effect lists still work, so the customization options are flexible to fit your stream! You can get more info over at - How to setup the Crowd Control overlay
Support
Not a Twitch affiliate or partner? Become a Warp World Pro member to use this pack, which also includes other special Crowd Control features.
You can follow the general setup guide at Warp World - The Future of Interactive Streaming & Gaming for extra help with the Crowd Control app, the extension or emulator support. Don't forget to create a menu and adjust item pricing at Warp World - The Future of Interactive Streaming & Gaming.
If you have any questions or need help with this setup, please head over to our Discord, reach out on Twitter, post on our forum or email CCsupport@warp.world!